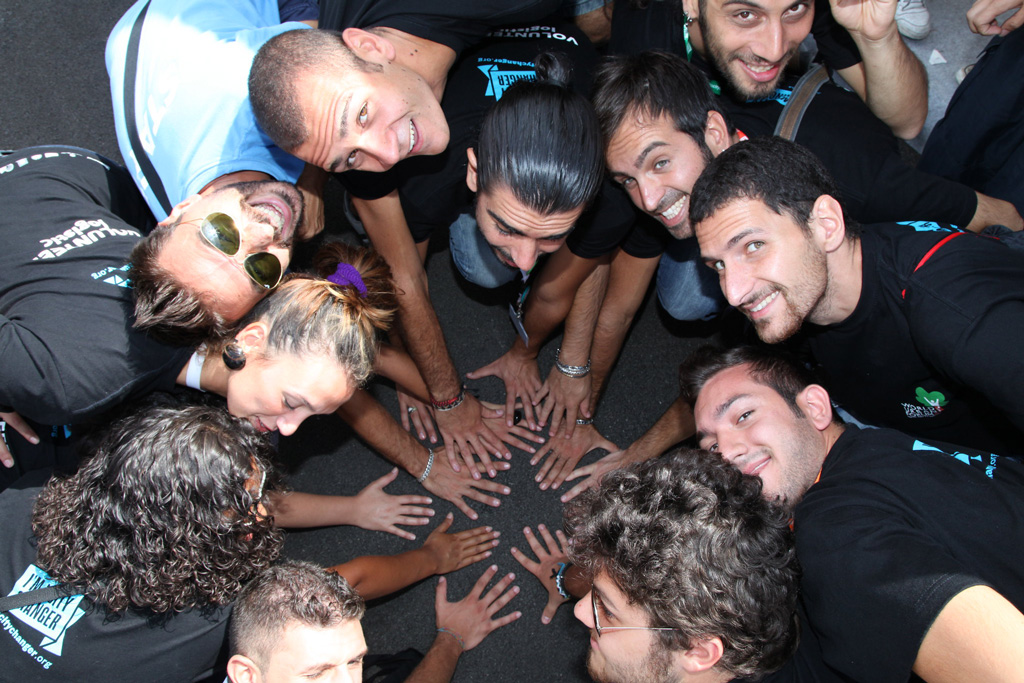 Copyright © UN-Habitat | Julius Mwelu
The CIF Secretariat is the convening shareholder of the Cities Investment Facility. Located within UN-Habitat and UNCDF, the CIF Secretariat draws on UN-Habitat's and UNCDF's convening power across governments, practitioners, and financiers, as well as its in-house pipeline of projects and vast geographic footprint.
The core aim of the CIF Secretariat is to ensure that there is a flow of projects through CIF and facilitate all the elements of CIF and its implementing partners in our collective endeavour to build a portfolio of bankable SDG-assessed urban development projects focusing on:
Facilitating CIF governance boards of the CI Portal, CI Advisory Platform, and CI Vehicles, alongside the respective implementing partner.
Building a pipeline of sustainable urban development projects by sourcing projects through UN-Habitat technical assistance activities, country offices, flagship programmes, partners, as well as through open calls.
Supporting on the programmatic work on engaging with project selection committee, investors, financiers, national, regional and local governments to inform and aware key strategic areas, projects and partners.
Hosting Cities Investment Platform events at World/Regional Urban Forums to showcase projects in the CIF pipeline to a diverse range of investors and financiers.
Facilitating SDG project profiling and assessment, CIF relationship, partnership and program management.
Team
The CIF Secretariat consists of the following members and their teams:
Neil is a social historian with a special interest in how citizens make their towns and cities. He was the founding Programme Director of Think City (www.thinkcity.com.my), an urban regeneration agency set up by Khazanah Nasional, the investment holding arm of the Malaysian Government. With its origins in the George Town UNESCO World Heritage Site, Neil helped expand this community focused urban regeneration agency throughout the country. Think City now operates from offices in Kuala Lumpur and Johor Bahru, overseeing over 700 urban regeneration projects with a cumulative total value of US$100 million.
Whilst at Think City, Neil was the organisation's Chief Operating Officer, helping set up a programme management office (PMO), overseeing partnerships, donor relations and strategic planning. He was actively involved in the setting up of the WU F9 Urban Village in Downtown Kuala Lumpur.
Before joining Khazanah Nasional, Neil was also a journalist with Star Publications, Malaysia's largest English daily, where he got involved in political analysis, heritage-making and civil society activities.
He is also a published author, having written some 10 books, ranging from Straits Chinese cuisine to his latest, Towns of Malaya: A Visual Urban History of the Malay Peninsula (Editions Didier Millet). Neil holds a PhD in English from the University of Cambridge.
Dyfed Aubrey is an Inter-Regional Advisor at UN-Habitat and coordinates its Sub-Programme on Enhanced Shared Prosperity of Cities and Regions. He previously headed UN-Habitat's Regional Office for Arab States, and worked at the Iraq Country Programme, leading the UN's work there on land, housing and shelter. His international experience also includes working with INGOs in Sri Lanka, Kenya and Kosovo. Prior to working internationally, he was an architect and urban designer in London.
Erastus is a political economist who has vast experience working with SMEs and innovative start-ups. He has special interest in the creation and deployment of sustainable urban investments through engagement with private sector entities.
Between 2006 and 2010, he worked with private medical practitioner SMEs from Ecuador, Chile, Argentina and Peru specializing in Radiology and was an investment analyst and software developer with the Kinema Street group of SMEs in Kyoto, Japan.
After stints in both Ecuador and Japan, he helped set up an incubation hub, @ilabAfrica — which is a is a Centre of Excellence in ICT Innovation and Development at Strathmore University. He also worked with innovators at the Ushahidi crowdsourcing platform, thereby helping to set up over 20 start-ups by young entrepreneurs in Africa.
In UN-Habitat, Erastus has been part of the team that conceptualized and established the Capital Advisory Platform in 2018 that has now evolved into the Cities Investment Facility.
Erastus holds a Masters' in International Political Economy from the London School of Economics and is fluent in Japanese, Arabic, English, Spanish and French.
Janus Leonhardt holds a Bachelor of Science in Engineering and a Minor in Urban Studies from Pontificia Universidad Católica de Chile. He currently supports the Cities Investment Facility (CIF) at UN-Habitat as a Sustainable Finance Consultant.
Since 2019, he has been conducting research on transport and urban planning, supporting the public sector in Chile, and developing innovative start-ups. Of particular note is his participation at the International Transport Forum with the Working Paper "The Experience of Reforming Bus Concessions in Santiago de Chile", presented to the Organisation for Economic Co-operation and Development; his support to municipalities and the Ministry of Housing and Urban Planning on urban analytics; and the creation of a start-up dedicated to representing the interaction between real estate and transportation markets.
His appointment at UN-Habitat has led to the coordination of the deployment of CIF at the World Urban Forum 2022 in Poland.
Wandia Karani is passionate about authentic communication. She aims to bring success to organizations by building important links and utilizing exceptional design through effective internal and external communications.
Before this appointment, Ms. Wandia worked at UNEP on a campaign dubbed #BeatPlasticPollution in the Marine Environment under the Global Programme of Action (GPA) as a Communication Assistant. GPA aims at preventing the degradation of the marine environment from land-based activities by facilitating the realization of the duty of States to preserve and protect the marine environment.
She has worked with other government agencies such as Kenya Tourism Board in the Exhibition and Marketing Unit and as a Social Media Officer at Kenya Wildlife Service on a campaign dubbed #TwendeTuvinjari in collaboration with World Trade Organization.
These experiences have defined Ms. Wandia as a proactive person who seeks to engage with the online community, public, and youth. Her appointment as an Intern at the UN-Habitat CIF programme will support the implementation of Cities Investment Facility (CIF) programmes and strategies through social media and content development.
Wandia holds a Master's in Science in Management and Organizational Development from United States International University-Africa.
Currently, Wandia is responsible for social media and communications of the Cities Investment Facility, within the Office of the Executive Director.
Gladys is a holder of a bachelor's degree in Mathematics and Actuarial Science from the Catholic University of Eastern Africa. She has over 2 years of work experience in development sectors and in multicultural environments. She has worked in supporting various initiatives with different organisations with specific contributions in supporting organisations to develop new ideas and innovative ways of implementation.
She has also worked as a digital marketer and product manager in a software engineering company called Weza Prosoft Ltd.
Her roles at the Cities Investment Facility (CIF) programme include assisting in designing and implementing the overall marketing strategy for CIF and assisting with planning and producing marketing campaigns across CIF social media channels.
Gladys is fluent in English, French, Kirundi and Kiswahili.
Sharon Kitur is a Law graduate from Strathmore University and is currently pursuing a Masters Degree in International Relations at the Queen Mary University of London. Sharon has a keen interest in international affairs. She has previously worked at Ogetto Otachi & Company Advocates, Edward C. Asitiba & Associates Advocates and Ministry of Labour and Social Protection.
Theodora Iboi received a Bachelor of Science in Architecture from the University of Lagos. She has over 5 years of experience in Construction, Planning, and Architecture as an Assistant Project Manager. She is passionate about the role of infrastructure in addressing economic, environmental, and social challenges in Developing Nations. She wants to help organisations achieve a future that is both socially and environmentally sustainable. Her internship at UN-Habitat CIF will help with project management techniques, SDG evaluation, and support for the Advisory and Project Selection team. She is studying for a Master of Science in Sustainable Development at the University of Bradford and speaks English and French fluently."
Katharina Seper studies her Master degree in Environmental Policy at Wageningen University of Research and holds a Bachelor in Environmental Technology of the University of Porto.
In her undergrad studies she combined the area of Urban Waste Management, Energy Production and Resource Availability. From which she started working on diverse aspects of Energy Production, including International Energy Policy and eventually leading to her Master focus on Sustainable Development Diplomacy and Energy Law in the European Union.
Living and studying in Austria, Brazil, Portugal and the Netherlands over the last 8 years has shaped her global perspective and passion for Waste Management and the Urban Energy Transition. She also interned at the Austrian Federal Ministry for Climate, Environment & Energy, the Austrian Agency for Food, Health & Safety and an internationally listed energy service company EVN.
Ms. Seper is fluent in German, Portuguese and English.
Teresita holds a Bachelor Degree of Psychology at Pontificia Universidad Católica de Chile and currently pursuing a MSc Social Development at UCL. She has more than 5 years of experience in the development arena working both in the public and private sector. After her graduation she was part of the founding team of "Soymás" NGO which aims to support teenage mothers and their children of high social vulnerabilities. After 2 years she moved to the government, Ministry of Social Development in Chile, designing programmes for the 40% more vulnerable citizens to eradicate poverty through income autonomy, social empowerment, housing and environment. During the Master she has developed a deep critical thinking and specific tools to work in urban planning, sustainability, social impact and participatory approaches with communities in the Global South.
She is fluent in Spanish and English.
Urwa is a Masters student of Urban Development Planning at the Bartlett Development Planning Unit at UCL, expected to graduate in September 2023. She has a background in Architecture and likes to express these skills through purposeful infrastructural projects that promote environmental sustainability, equity and social inclusion. She has also propounded the social role of architecture through her editorial works on Arch2O platform and other academic writings. At CIF, her aim is to learn project evaluation and assessment through the lenses of SDGs and financial model feasibility to be able to self-evaluate her own slum transformation projects that may be submitted to CIF towards the end of her work period.
David Jackson, a British national, has over 30 years of experience in Local Development. He started his career as an urban planner in London in the 1980s and later on ran a consulting company supporting local development in over 10 African and Asian countries.
The beginning of his career at UNCDF was in the 1990s in Mozambique, where he designed and piloted a national system of local government finance for capital investment that was taken to scale by government.
Since 2006, he worked as Decentralisation Advisor to the Government of Indonesia and UNDP. In 2009, he became Head of UNCDF Asia and Pacific office where he designed the Local Climate Adaptive Living Facility, a global mechanism that enables local governments in the least developed countries to access climate finance for resilient investments.
In May 2013, he was appointed Director of UNCDF's Local Development Finance Practice in New York. In this position he manages the portfolio of local development finance programmes with a focus on fiscal decentralisation, infrastructure development, climate resilience grants, municipal finance and private sector investments.
Jenifer Bukokhe Wakhungu is the Deputy Director of the Local Transformative Finance pratice of UNCDF, she is also programme manager for the Development Initiative for Northern Uganda and the Deputy Head of UNCDF Country Office in Uganda. She has been working with UNCDF since 2005 managing local development finance programmes in Uganda; later served as the UNCDF Regional Technical Advisor, based in Lesotho providing technical support to LDFP portfolio in Lesotho, Zambia and Malawi. She is responsible for managing the partnership with the Swedish International Centre for Local Democracy with whom UNCDF implements an International Training Programme in Uganda, Tanzania, Zimbabwe, Zambia and South Africa. She too manages UNCDF projects funded under the Multi-Partner Trust Fund as well as chairing the UN Deputies Team. She has over 20 years of experience in supporting Local Governments to devolve functions, improve local governance systems, fiscal decentralization, public financial management, gender responsive planning and budgeting and local economic development. She supports implementation of UNCDF global programmes at Country level such as IncluCity and Municipal Investment Finance. Prior to joining that, she worked with the Government a medical Social Worker; and then with international non-government organizations namely Save the Children, Water Aid and Concern Worldwide managing programmes at local and national level. She received a recognition award from the Ministry of Local Government in Uganda for her contribution towards decentralization reforms. She holds a Bachelor's Degree in Social Work and Social Administration, Master's Degree in Gender and Women Studies and a Doctor of Philosophy.
Dr. Dmitry POZHIDAEV is Global Advisor for Local Government Finance and Head of UNCDF Office in Uganda. He has been working with UNCDF since 2010 guiding local development finance programmes for public and private sector in many countries in Asia and Africa. Prior to that, he worked with various international financial institutions and private sector companies, such as the World Bank, European Union, Extractive Industries Transparency Initiative, and Adam Smith International as a consultant on fiscal decentralisation, development finance, and public financial management in Europe, Middle East and Southeast Asia. He served as an international municipal administrator in Kosovo where he oversaw a municipal budget and capital investment programme of €11 million annually, including a large portfolio of infrastructure PPPs.
Mr. Pozhidaev has a doctorate degree in Development Economics and authored numerous articles and book chapters on public administration, local development, finance and investment.
Christel Alvergne is Team Leader for the Africa region.Christel holds a PhD in Urban Economics. She is a former academic and has been a researcher and professor in academic institutions in France, Canada, Senegal and Egypt. She published several books on territorial policies, fiscal decentralization and urban development analyzing the evolutions in Europe, the US, Canada and across Africa.
Convinced about the importance of local dimension for a sustainable and human development, she has been involved in the Municipal movement in developing countries and has contributed to promote decentralization processes since their beginning in the 1990s. She has also worked for 20 years on fiscal decentralization and municipal finance in developing countries.
Prior to this involvement in Africa, she was involved in the forecast policies for the French Prime Minister agency – DATAR. She set up the "France 2020" program, an initiative to test and develop innovative approaches to decentralization and local governments involvement into time management policies, forecast plans, capital investment plans and new financing models for municipalities.
Suresh Balakrishnan is Regional Team Leader for UNCDF's Local Development Finance Practice based in Kathmandu, Nepal. He supports a diverse set of local development programmes across the region, which range from local development grants, municipal finance and local economic development finance. Suresh has been with UNCDF since 2012 after a long association with UNDP in Asia, during which he worked closely with UNCDF in several countries. He played a key role in developing several financing instruments ranging from operational expenditure blocks grants to partial credit guarantees for the Local Development Finance portfolio.
Suresh holds a doctoral degree in management sciences and worked with academia and civil society before joining the UN system. He led the Public Affairs Centre in Bangalore, India for a decade during which he helped develop Citizen Report Cards emerge as a global best practice in public accountability. He has published extensively in international journals and was on the faculty of the International Programme for Development Evaluation jointly conducted by The World Bank Group and the Carleton University for a decade, from 2005. His areas of expertise include local development finance, local governance, entrepreneurship development, process re-engineering, public administration reform and development evaluation.
Paul Martin is the Regional Team Leader for UNCDF's Local Development Finance Practice based in Bangkok, Thailand. He transitioned from the private sector to UNCDF in 2015 after 20 years of global consultancy work, with an especial focus on Asia and emerging economies. Pauls began his career as a UK civil servant tasked with supporting the privation of UK nationalized industries in the 1990,s and later joined the UK governments' international energy consultancy. He undertook assignments in Russia, regenerating mono-activity towns viz-a-viz EBRD investments and World Bank sectorial loans, in the Middle East managing large energy and transport investments and India disposing of UK ODA assets.
Since 2004 Paul worked as a senior consultant for a limited number of leading European consultancy companies, UNDP and OSCE in the areas of planning and investments, PFM, policy development and legislative and regulatory advisory within the spheres of investment, investment promotion and PPPs. This portfolio of work has included the generation of national and sub national transformative plans and investment portfolios, forecasting of national development financing and public sector capital investments, PFM and establishing regulatory bases for PPPs and credit guarantees and originating PPP investment pipelines.
Paul holds an International MBA and a BSc in Energy and Law.
Jaffer Machano is the Global Programme Manager for the Municipal Investment Finance programme of UNCDF.Jaffer oversees the UNCDF initiative charged with increasing the capacity of local governments to address key urbanization challenges through access to sustainable sources of capital financing.
Before UNCDF he was Head of Global Banking Tanzania at Standard Chartered Bank and Deputy Managing Director at TIB Development Bank. Jaffer also worked at the Federal Reserve Bank of New York, and Barclays Bank. He holds a master's degree in international Economic Policy from Columbia University.
Samina Anwar works with the UN Capital Development Fund as Programme Manager with the Local Development Finance Team. Samina Has Over 15 Years of Work Experience in International Development with a Particular Focus on Development Finance, Gender lens investing and Rural Economic Development. In Her Current Role She Leads women's economic empowerment portfolio and provides technical advice for implementing country-based programmes and developing inclusive financing tools. She also leads corporate' strategic priorities related to gender equality including technical advice on the development and implementation of corporate Gender Equality Strategy and Action Plan.
Prior to this, Samina led a financing for gender equality initiative with UN Women and provided technical advice to local partners on effective integration of gender equality in policy and regulatory frameworks and budgeting processes. In the past, Samina worked with the Aga Khan Rural Support Programme in Northern Pakistan to support local economic development projects related to agriculture and rural infrastructure.
Ms. Anwar holds a master's degree in Social Policy from the London School of Economics and a master's degree in Economics from Pakistan.
Katiella Mai Moussa is currently the Global Manager for the Finance For Food (F4F) Program and Food Security Technical Advisor for the United Nations Capital Development Fund. He is supporting the implementation of public and private food security investments pipeline in Tanzania, Uganda and Benin. Prior to UNCDF, Mr. Katiella worked for a decade as Coordinator and Grant Manager of the GEF/UNDP Small Grant Program, Community based Adaptation and Community Water Initiative) with multi focal funding windows (Land Degradation, Biodiversity, Climate Change and International Waters, Persistent Organic Pollutants).
Prior to joining the UN System, Katiella worked as associate scientist (Postdoc position) at the International Crops Research Institute for the Semi-Arid Tropics (ICRISAT) where he developed strong experience on Crop, Land and Water Management and the Multi Scale Land Use System. After several consultancies and advices provided to the World Bank Natural Resources Management Projects, he joined the Faculty of Sciences (University of Niamey) as Assistant professor and nominated as Vice Chairman of the National Commission of Climate Variability and Change where he took a lead of the National Research Group of the Global GEF/World Bank Program in partnership with Yale University and CEEPA/University of Pretoria, on the Adaptation of Agriculture sector to Climate Change in Africa.
He holds a Doctorate in Ecology, a Postgraduate in Climate Change Management and Adaptation from the Technical University of Dresden (Germany), a Leadership Development Certificate from Harvard Business Publishing and a Certificate in Food Security Strategic Planning from the International Center for Parliamentary Studies (ICPS) in London (UK).
Jesmul Hasan is the Country Focal Point for UNCDF in Bangladesh. He has a career of 23 years in social development, human rights, teaching and journalism in Bangladesh. His expertise are on infrastructure finance, credit guarantee, governance, institutional and political analysis, policy, local development finance and climate change. He leads UNCDF projects on WEE, climate change, municipal finance.Prior to joining UNCDF, he worked for the Dutch Embassy in Bangladesh, DFID, CIDA, UNHCR, ILO, World Bank and Save the Children. He has a Master's in Public Administration from the Harvard Kennedy School and Bachelor's in Law from the University of Dhaka.
With 24 years of professional experience in various fields, including management, monitoring and evaluation of development projects and programs, he ensures the operational and financial monitoring of all joint UNCDF projects in Guinea as well as some UNDP projects. He ensures the optimal use of resources and their visibility to the beneficiaries, the Government and donors, through actions in the field.
Prior to his appointment to this position in 1997, Mr. Barry held several positions, including manager of the Village Water Supply Program in the Gabu region (Guinea Bissau), before being entrusted with the management of the Rural Development Support Program in Middle Guinea (PA-PDRMG), the Local Development Program in Guinea (PDLG), the Community Reinsertion and Rehabilitation Project in Forest Guinea and the Multifunctional Platform Project in Guinea.
An agronomist by profession, Carlos Barry worked for 10 years at the Ministry of Natural Resources of Guinea Bissau as Director of Planning at the National Directorate of Water Resources where he was in charge of programming the water sector and implementing the sector's master plan in the framework of resource mobilization. He also has solid experience in the identification, formulation and management of local development and micro-finance programs, as well as humanitarian programs.
Carlos Barry is an Agronomy Engineer, holding a Diploma of Higher Studies in Agronomy (DSS) from the Faculty of Agronomy of the Institute of Agro zootechnical Sciences of Foulaya-Kindia (Rep. of Guinea) before attending several training sessions in Africa, France and Latin America.
In addition to local languages (Soussou, Pulaar and Creole) Carlos Barry is fluent in French, Spanish and Portuguese.
Amadou offers 9+ years of experience in finance with the private sector at international level and 6+experience with the UNCDF.
Prior to joining UNCDF, he worked with multinationals like Danone, Lacoste and Ernst & Young in Paris bringing a solid track-record of audit, financial control, budgeting and implementing solutions achieving business objectives through optimized processes.
Since joining UNCDF in 2016, he has worked for the Policy Partnership and communication Unit on advocacy and outreach, partnerships, and resources mobilization. He also supported the work of the UNCDF LDC Investment Platform Team.
Today, Amadou is the global communication lead of the Local Development practice, he is also assisting Local Development programs on Results Reporting and Evaluations.
Inescapably drawn to development issues and challenges, bilingual (English/French), with a multi-country experience and with a strong knowledge of West Africa, Amadou holds a MBA, Master in Business Administration from the Hult International Business School(Boston, US) , A Bachelor in Business and Management Studies from the Bradford School of Management ( Bradford, UK) and Bachelor in Business administration from the Montpellier Business School Montpellier, France).
Nan Zhang is Programme Management Specialist at UNCDF's Local Transformative Finance Practice (LTF) based in Kampala, Uganda. She is responsible for managing LTF's programme portfolio and its implementation in Africa. Nan joined UNCDF as policy consultant in 2016 and later as Programme Analyst, contributing to policy research, programme management and partnerships in Local Transformative Finance. Prior to joining UNCDF, Nan worked on consultancy projects for The Hunger Project (Senegal), Soluciones Comunitarias (Guatemala), UN Women (USA), Global Youth Connect and Children Affected by HIV/AIDS (Rwanda), and Xiamen district council (China). Nan holds a Master of Public Administration in International Development Policy and Management from New York University. She is a Global Shaper at the World Economic Forum.
Prior to joining UNCDF, Peter Malika was the Regional Director at E+CO a clean tech fund; Director of the KPMG's Risk and Advisory Services practice in USA. He has over 20 years of substantive leadership experience in international development and trade, fortune 500 corporate centered experience & management consulting, management of global and regional operations, and expertise in financing for development and solutions.
Peter is the Global Manager of the UNCDF Local Finance Initiative Facility & Head of UNCDF Tanzania. He has served the United Nations in different capacities at national, regional and global levels. Led financing for development initiatives and cross cutting innovative in local economic development and governance; climate resilience; poverty reduction; private sector development; gender and development; and investment advisory services, knowledge management and partnerships, across Africa and Asia.Mr. Malika holds an MBA Finance, Certified Information Systems Auditor (CISA), BSc. Accounting.
Prior to joining UNCDF, Abraham served at managerial level in different international and regional banks in Tanzania. He has worked with Barclays Bank, Exim Bank and Bank of Africa.Before joining the banking industry, Abraham worked with KPMG Tanzania as Audit Senior. In addition, he has over 14 years' experience in banking, local economic development, financial management, and business advisory.He is a certified chartered accountant (ACCA, CPA) and financial economist with a Master of Science (Financial Economics) and Bachelor of Commerce (Banking Finance).
Prior to joining UNCDF, Michael was the Director – Financial Advisory at Bronkar (U) Ltd providing financial services to SMEs including; preparation for equity investments, business plans, financial analysis, assessment and implementation of internal controls.
He was also an Audit Senior at Deloitte East Africa prior to that.
He holds a Bachelor of Statistics; he is a Member of the Association of Chartered Certified Accountants (ACCA) and the Institute of Certified Public Accountants of Uganda (CPA).
Prior to joining UNCDF, Stella worked for the Ministry of Local Governments as a Senior Financial Management officer, in the areas of LGAs finance, fiscal decentralization, financial analysis, project finance and Public Private Partnerships (PPPs).
She has extensive experience of supporting public sector investments including the structuring of commercial infrastructure investments.
Prior to joining UNCDF, Malimu Museru was a Manager at Ernst & Young Tanzania in the transaction advisory services team where he led the team in providing services including financial due diligence, valuation of businesses, feasibility studies, pre- and post-acquisition reviews etc.
Prior to EY he worked at Riscura South Africa, a global investment advisor – providing private equity advisory services to Africa's largest pension funds and private equity funds. He executed transactions in sectors including manufacturing, agribusiness, and infrastructure covering Southern Africa, West Africa and the MENA region.
Malimu is a certified chartered Financial Analyst (level 3 candidate) and holds a Bcom (Finance & Economics), Bcom honours (financial analysis & portfolio management), and a Master of Commerce (Finance).
Prior to joining UNCDF, Amarou Aw was a Senior Investment Officer at the Senegalese sovereign wealth fund for strategic investments, and prior to that a Senior Consultant at a global strategy consulting firm in Paris and London.
Amarou has 10 years of corporate strategy and financial advisory experience with engagement at executive level with 500 companies, senior government members in Senegal, Mayors and a wide range of SMEs in Senegal and in Africa. In his Investment Officer role at UNCDF, Amarou is mainly focused on building a pipeline of investable projects through SMEs and PPPs and goading them towards disbursement and monitoring.
Amarou holds an engineering degree (MSc) from Ecole des Ponts ParisTech and an MBA from the Ponts Business School. He fluently speaks French, English and Wolof.
Prior to joining UNCDF, Mr. Dian worked as an Investment Manager and advisor to the CEO of a French investment company specializing in infrastructure development in the energy and ICT sectors in Europe and Africa for 6 years.
He has experience in economic and policy advisory in France and Africa with consulting firms mandated by governments and donors, combining economic and financial tools to carry out cost-benefit analysis, value for money assessment, ex-ante and ex-post socio-economic impact assessment and regulatory impact assessment. Dian is the LFI investment officer in Guinea and supports ongoing programs. He holds a Master of Science in Development Economics, Master of Science in Development Project Analysis, and BA. Economics.
Prior to joining UNCDF, Sirra Fooon worked as Business Planning Manager/Research & Actuarial Manager at the Social Security and Housing Finance Corporation, The Gambia. Sirra works at UNCDF Gambia as an Investment Officer (LFI) for the "Jobs, Skills and Finance (JSF) for Women and Youth in The Gambia" Programme providing technical assistance and capital to climate smart LED investments.
Sirra holds a BA (Hons) and a Master of Science in Actuarial Science.
Mr. Imanuel Muro combines practical expertise as a financial and investment advisor and BDS trainer with extensive experience on development finance, project finance, private equity, and debt transacting. He has over 27 years' experience working in both the private and public sectors and has experience of working with Local Governments in Zanzibar, Lesotho, The Gambia and Uganda. Mr Muro is a Certified Public Accountant (CPA). He also holds master's degree in Enterprise and Entrepreneurship Development (MEED) from Business School, University of Dar-es salaam. He formerly graduated in Bcom from the same University.
Prior to joining UNCDF, Fidelis worked for UNDP and UNCDF in Tanzania for over 4 years as Finance Analyst.
Prior to UN system, Fidelis worked as Accountant in the private and public sector in Tanzania at various levels. Fidelis is an Investment officer with UNCDF-Tanzania office for the past four years. Since joining UNCDF, Fidelis has supported the team from identification, development to financing stage of several projects in various sectors and thematic.Mr. Luteganya is a Certified Public Accountant. He Holds a Master's Degree in Economics (Banking & Finance), a master of Business Administration, and a Bachelor of Commerce majoring in Accounting.
Prior to joining UNCDF, Sharmeen Hossain led the Structured Finance desk at a boutique investment bank which also pioneered Public Private Partnership investment vehicles for large infrastructure transactions.
Ms. Hossain, started her career at JPMorgan as a certified Sales Trader advising large mutual and hedge funds in Boston and New York investing in US institutional equities. She dedicated her mid-career to developing the secondary equities markets in India and Bangladesh as an Investment Banker specializing in Issue Management (IPOs, RPOs, Rights and Preferred Shares) and Corporate Advisory (M&A and Restructuring) of local corporates.She obtained her MBA from the Kellogg School of Management at Northwestern University and BBA from Babson College in the US.
Deus Tirwakunda is the START Facility Manager at UNCDF, a blended finance facility under the food security and nutrition component of Development Initiative for Northern Uganda (DINU) Program.Prior to joining UNCDF, Deus worked with Kilimo Trust for over 10 years rising from Accountant position to be the Director for Finance & Administration. He previously worked as a Senior Auditor – Kazibwe, Kenneth & Steven Certified Public Accountants.Deus is a CPA and a member of the Institute of Certified Public Accountants of Uganda, holds a Master's Degree in Financial Management (Amity University) and a Bachelor of Arts (Makerere University).
Prior to joining UNCDF, Fred worked with impact funder- Oikocredit for 5 years as an Investment officer for the East African region- Providing debt to sectors of Renewable energy, Financial institutions and Agriculture. He previously worked as a credit supervisor with – Guaranty Trust Bank. As a Senior Credit officer- Equity Bank and Credit officer- Uganda Microfinance Ltd.He is currently the Programme Analyst- Investment on the START facility, a blended finance facility under the food security and nutrition component of Development Initiative for Northern Uganda (DINU) Program.
Prior to joining UNCDF Ddamulira Ivan, started his career at Barclays Bank Limited, Kampala, Uganda and worked there for 12 years in several roles including Branch Operations Manager; Operational Risk Advisor; and Corporate Credit Manager.Currently he works as a Programme Analyst- Investment for the DINU Programme- START Facility based in Kampala, Uganda.Mr. Bbaale, holds a degree in Economics and a Master of Business Administration. He is a member of the ACCA & CPA
Mr. Joel Mundua Lead Specialist- Governance, with over 19 years of experience in public finance management, local governance, local economic development (LED).Before Joining UNCDF, Joel among others worked at the World Bank as Economic Competitiveness Advisor and Ministry of Local Government as Local Economic Development Specialist, supporting Government on LED and job creation policy development, municipal finance and support to develop bankable economic infrastructure projects. He has also supported public private dialogues and enabling environment support and supporting PPP's in manufacturing sector with a job creation lens.He holds a Master of Science in Agricultural & Applied Economics from Makerere University.
Abdulaziz is an experienced professional in the area of Corporate Finance and Business Analytics with over 12 years of experience in financial services, corporate venturing, and infrastructure financing. Abdulaziz is part of the Global Municipal Investment Finance team at UNCDF. Prior to joining UNCDF, Abdulaziz's work focused on corporate strategy, bidding on international ICT licenses, and investments in internet and technology companies. He holds an undergraduate degree in Management information Systems from Iowa State University and a Master of Business Administration from IE Business School.
Rukan Manaz is an experienced professional in the area of international cooperation and sustainable finance. As part of the Municipal Investment Finance team at UNCDF, she is in charge for the Blue Peace Initiative – a financing initiative for non-sovereign entities. Prior to joining UNCDF, Rukan worked in different public agencies, including a think tank and the Swiss Government. Her work focused on blended finance approaches and PPPs for the Sustainable Development Goals. Rukan holds a Master's and Bachelor's Degree in International Affairs and Governance from the University of St. Gallen as well as a Bachelor's Degree in Psychology.
Prior to joining the UN, Mohammad Abbadi worked as an Economic Advisor to the Minister of Planning and International Cooperation of Jordan.
Mohammad Abbadi is the Senior Investment Manager with the Local Development Finance Practice at UNCDF, spearheading the Global Award Winning "Dual Key" pipeline and approach to revenue generating investments and ensures quality control on the investments' financial sustainability and compliance with development impact measurements. Mohammad brings over 16 years of international development and managerial experience. He continues to provide innovative approaches to Investment and Impact management, including industry standard assessment instruments, methodologies and best practices in building sustainable investment portfolios. He is an economist by practice with specific specialization in SDGs responsive Local Economic Development and Women's Economic Empowerment, especially in the Least Developed Countries (LDCs) context.
Prior to joining UNCDF he worked as a Gender Economist with UNDP, leading their flagship programme on Gender and Macroeconomic Policy Management in Africa and Asia. Mr. Abbadi holds a master's degree in Public Administration from Rockefeller College of Public Affairs (USA), and a Bachelor's degree in Economics from Hampshire College (USA).
Leyla is a corporate and financial lawyer with more than ten years' experience in the private and public sector, and more recently with the United Nations Capital Development Fund (UNCDF).
Prior to joining UNCDF, she worked as senior advisor at the Financial Superintendence of Colombia, government agency responsible for overseeing financial regulation and market systems across the country. She was the legal and financial filter for many decisions in different industries and facilitated research for the discussion and issuance of relevant regulation and public policy.
Since joining UNCDF in 2017, she has worked as Public & Private Investments Portfolio Lead assisting the Local Development Finance practice in tasks related to the analysis and implementation of the Local Development Revenue Generating Pipeline of Investable Projects developing valuable analysis skills.
Leyla holds an LLM, Master of Laws in Banking and Financial Law at Boston University School of Law (Boston, US) and postgraduate specialization studies in Corporate Law, Commercial Law, and Financial Regulation. She holds a Bachelor of Laws (LLB) from Universidad del Rosario (Colombia).
Rob Potts is the Pipeline Process and Impact Assurance Analyst on the Dual Key headquarters team in New York. He supports the monitoring and management of various tracks of pipeline development with third party funds and investment partners, progress tracking and associated impact applications, and the tracking of revenue streams.
He joined the Dual Key team full time in 2022 after 18 months as an external expert reviewer for the Investment Committee heading the Rockefeller College of Public Affairs and Policy partner programme. Prior to joining UNCDF, he worked in the private sector and in US state government specialising in grants administration, impact monitoring, policy research, and communications.
Rob holds a Master of International Affairs in Global Governance and Diplomacy from the Rockefeller College of Public Affairs and Policy, SUNY Albany. He has studied previously at Sciences Po Paris, the University of Cape Town, and the University of Maine.
Chanja Mwombela joins UNCDF as an Investment Impact Officer, Data Collection and Measurement. Prior to joining UNCDF, Ms. Chanja Mwombela worked as Head of Institutional Banking at Bank of Africa Tanzania managing all Investments and Services for all institutional clients for the bank. She also worked in other departments as well managing Corporate Banking and Administration.
Apart from Bank of Africa Tanzania, she also worked in other banks like Bank M, Barclays Bank, and International Bank of Malaysia (now ICB) and has 19 years banking experience. A passionate Scientist, with experience in dealing with NGOs, Private Businesses, Public Institutions and Government Agencies.
Chanja holds a Master of Business Administration – International Business (MBA-IB) and Bachelor of Science in Microbiology and Zoology.
Prior to joining UNCDF, Tatiana Martinez Zavala worked as a Senior Analyst in a consulting firm specialized in socio-economic evaluation of public investments and policies in France. She also worked in the Ministry of Economy and Finance of Guinea-Bissau as part of the Overseas Development Institute Fellowship Scheme. Tatiana has over 6 years of combined experience in research and analysis of international development, public policy, international migration, and M&E of a diverse range of development initiatives on social protection, food security, agricultural development, among other cross-cutting themes.
Tatiana is the M&E Impact Specialist of the UNCDF Local Development Finance Practice in the West & Central Africa Region. She works both on the M&E of the region's program portfolio, as well as on the impact measurement of UNCDF's regional investments.
Mrs. Martinez Zavala holds a PhD, MSc and BSc in Economics.
Tanvir Hassan is a Service Designer, who focuses primarily on helping start-ups and non-profits better design their service. His expertise lies in process optimization, user experience, product management, research and M&E. He spearheaded two national-level government sponsored studies in Bangladesh on Women Entrepreneurs and Technology Transfer Mechanism.
Prior to joining UNCDF, Tanvir worked as a consultant for different organizations and tech-based start-ups by assisting them in creating their service blueprint based on human-centered design. Tanvir completed his BBA from BRAC University and earned his Professional Masters in International Relations from the University of Dhaka.
Léa Desgranges is Portfolio Management Officer for UNCDF's Local Development Finance Practice based in the the Regional Office of West and Central Africa in Dakar. She has been working within the UN system for 4 years, supporting programmes' implementation to promote local development, women empowerment, better governance, sustainable development and health improvement. Prior to joining United Nations, she worked in the field of public policies both in public and private sectors, for consulting firm (KPMG) ; NGO (WorldVision) or Local Administration (Paris City Hall).
In her current position, she is in charge of the coordination of 10+ country projects, budgeting and implementing activities to enhance municipal finance and to support SMEs / PPPs at decentralized level.
Léa holds a master's degree of Public Management from Ecole Nationale d'Administration (ENA, France) and Paris Dauphine University (France).
Governance
The organisational framework of CIF comprises seven entities: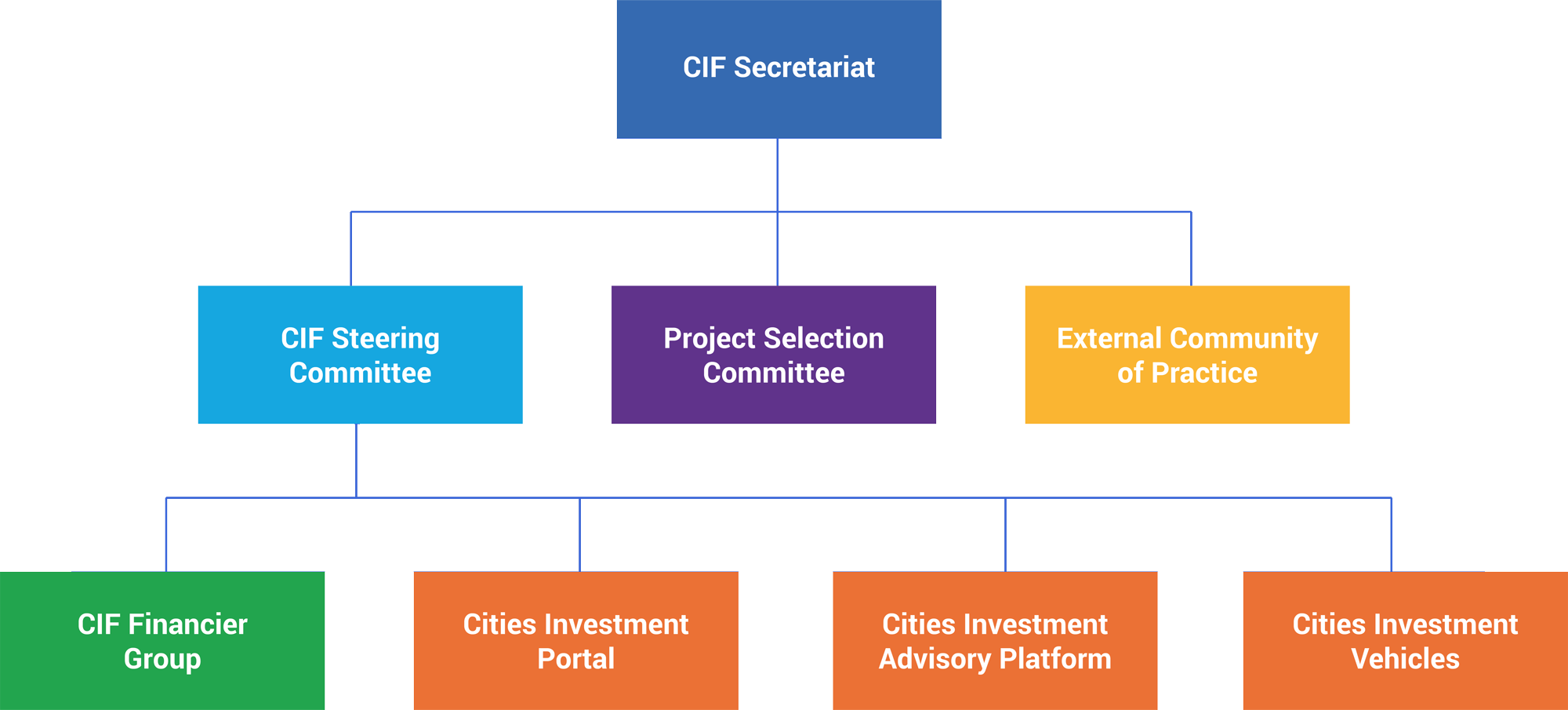 CIF Steering Committee: It comprises of representatives from the Administrator of the CI Portal, the CI Advisory Platform and the CI Vehicles, whose objective is to provide strategic direction to CIF, including in areas of programme mission, vision, structure, and high-level operational objectives.
Project Selection Committee: It comprises of a total eight experts nominated from the CIF Secretariat, the CI Advisory Platform, the CI Vehicles and the Administrator of the CI Portal, whose objective is to conduct the initial round of filtration and assessment of projects entering the CIF pipeline.
External Community of Practice: It consists of seven members nominated by the Executive Director of UN-Habitat from outside of UN-Habitat that are external to the CIF governance, who have experience with financing urbanisation and/or developing bankable projects.
CIF Financier Group: It comprises of individual and/or institutional financiers which are external to CIF, that have made financial contributions to any of the entities of CIF.
Guidelines
In the implementation of its mandate and activities and in its relationship with its members and partners, CIF will operate in accordance with the United Nations Charter, rules, regulations, principles and policies, including the United Nations policy on "zero tolerance for sexual exploitation". Nothing in its actions or engagements shall be deemed, either expressed or implied a waiver of the United Nations privileges and immunities.

SDG Cities Global Initiative
SDG Cities is the mother programme of Cities Investment Facility. It aims to help cities to set clearly defined, evidence-based development targets for 2030, and provides cities with technical assistance in strategic planning, capacity building and development financing in order to realise the targets.
The Cities Investment Facility is a key mechanism through which SDG Cities can ensure a continuous pipeline of SDG-assessed, de-risked, verifiable impact investment opportunities in cities globally.
In this framework, UNCDF and UN-Habitat as part of SDG Cities have identified the following four distinct but mutual reinforcing areas to cooperate in:
Financing sustainable cities including through joint implementation of the Cities Investment Facility (CIF)
Local public financial management including through coordination, collaboration, joint programming and joint implementation at country, regional and global level
Technical and normative support to sustainable city development finance including through coordination, collaboration, joint programming and joint implementation at country, regional and global levels
Joint resource mobilization to ensure that SDG cities is fully funded
UNCDF and UN-Habitat aim to raise USD 40 million over the next four years to support the programming, operations and technical support needed to finance the partnership. The goal of both organizations under the partnership is to reach 250 cities through their sustainable finance support by the year 2025.