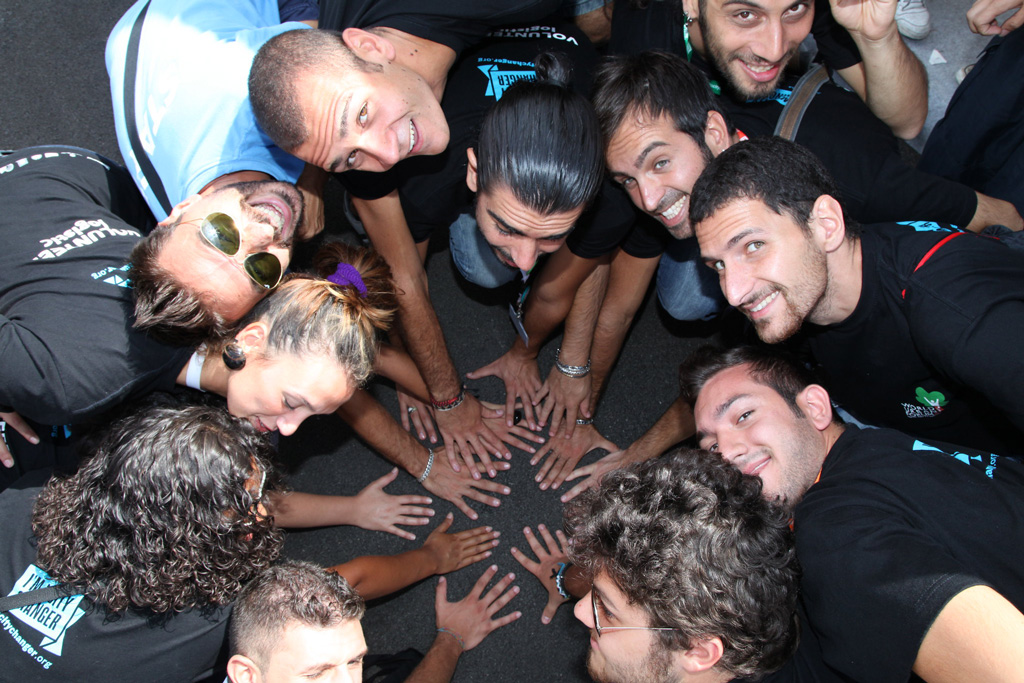 Copyright © UN-Habitat | Julius Mwelu
The CIF Secretariat is the convening shareholder of the Cities Investment Facility. Located within UN-Habitat, the CIF Secretariat draws on UN-Habitat's convening power across governments, practitioners, and financiers, as well as its in-house pipeline of projects and vast geographic footprint.
The core aim of the CIF Secretariat is to ensure that there is a flow of projects through CIF and facilitate all the elements of CIF and its Implementing Partners in our collective endeavour to build a portfolio of bankable SDG-assessed urban development projects focusing on:
Facilitating CIF governance boards of the CI Portal, CI Advisory Platform, and CI Vehicles, alongside the respective Implementing Partner.
Building a pipeline of sustainable urban development projects by sourcing projects through UN-Habitat technical assistance activities, country offices, flagship programmes, partners, as well as through open calls.
Supporting on the programmatic work on engaging with project selection committee, investors, financiers, national, regional and local governments to inform and aware key strategic areas, projects and partners.
Hosting Cities Investment Platform events at World/Regional Urban Forums to showcase projects in the CIF pipeline to a diverse range of investors and financiers.
Facilitating SDG project profiling and assessment, CIF relationship, partnership and program management.
Team
The CIF Secretariat consists of the following members and their teams:
Neil is a social historian with a special interest in how citizens make their towns and cities. He was the founding Programme Director of Think City (www.thinkcity.com.my), an urban regeneration agency set up by Khazanah Nasional, the investment holding arm of the Malaysian Government. With its origins in the George Town UNESCO World Heritage Site, Neil helped expand this community focused urban regeneration agency throughout the country. Think City now operates from offices in Kuala Lumpur and Johor Bahru, overseeing over 700 urban regeneration projects with a cumulative total value of US$100 million.
Whilst at Think City, Neil was the organisation's Chief Operating Officer, helping set up a programme management office (PMO), overseeing partnerships, donor relations and strategic planning. He was actively involved in the setting up of the WU F9 Urban Village in Downtown Kuala Lumpur.
Before joining Khazanah Nasional, Neil was also a journalist with Star Publications, Malaysia's largest English daily, where he got involved in political analysis, heritage-making and civil society activities.
He is also a published author, having written some 10 books, ranging from Straits Chinese cuisine to his latest, Towns of Malaya: A Visual Urban History of the Malay Peninsula (Editions Didier Millet). Neil holds a PhD in English from the University of Cambridge.
Dyfed Aubrey is an Inter-Regional Advisor at UN-Habitat and coordinates its Sub-Programme on Enhanced Shared Prosperity of Cities and Regions. He previously headed UN-Habitat's Regional Office for Arab States, and worked at the Iraq Country Programme, leading the UN's work there on land, housing and shelter. His international experience also includes working with INGOs in Sri Lanka, Kenya and Kosovo. Prior to working internationally, he was an architect and urban designer in London.
Erastus is a political economist who has vast experience working with SMEs and innovative start-ups. He has special interest in the creation and deployment of sustainable urban investments through engagement with private sector entities.
Between 2006 and 2010, he worked with private medical practitioner SMEs from Ecuador, Chile, Argentina and Peru specializing in Radiology and was an investment analyst and software developer with the Kinema Street group of SMEs in Kyoto, Japan.
After stints in both Ecuador and Japan, he helped set up an incubation hub, @ilabAfrica — which is a is a Centre of Excellence in ICT Innovation and Development at Strathmore University. He also worked with innovators at the Ushahidi crowdsourcing platform, thereby helping to set up over 20 start-ups by young entrepreneurs in Africa.
In UN-Habitat, Erastus has been part of the team that conceptualized and established the Capital Advisory Platform in 2018 that has now evolved into the Cities Investment Facility.
Erastus holds a Masters' in International Political Economy from the London School of Economics and is fluent in Japanese, Arabic, English, Spanish and French.
Mark Gallagher is the Sustainable Finance Officer of the Cities Investment Facility, based within the Office of the Executive Director, and is primarily responsible for project selection and strategic partnerships.
 
Mark has 8+ years of project, operations & stakeholder management experience across sustainable finance, environment & climate change, and inclusive economic development themes, both in the UK and internationally. In previous roles, including positions at Chief Operating Officer and Trustee level, Mark has developed significant skills across strategy, fundraising & resource mobilization, revenue model innovation, capacity-building, data management & visualization, and monitoring & reporting, with a demonstrated track record of driving, monitoring and communicating successes.
Wandia Karani is passionate about authentic communication. She aims to bring success to organizations by building important links and utilizing exceptional design through effective internal and external communications.
Before this appointment, Ms. Wandia worked at UNEP on a campaign dubbed #BeatPlasticPollution in the Marine Environment under the Global Programme of Action (GPA) as a Communication Assistant. GPA aims at preventing the degradation of the marine environment from land-based activities by facilitating the realization of the duty of States to preserve and protect the marine environment.
She has worked with other government agencies such as Kenya Tourism Board in the Exhibition and Marketing Unit and as a Social Media Officer at Kenya Wildlife Service on a campaign dubbed #TwendeTuvinjari in collaboration with World Trade Organization.
These experiences have defined Ms. Wandia as a proactive person who seeks to engage with the online community, public, and youth. Her appointment as an Intern at the UN-Habitat CIF programme will support the implementation of Cities Investment Facility (CIF) programmes and strategies through social media and content development.
Wandia holds a Master's in Science in Management and Organizational Development from United States International University-Africa.
Currently, Wandia is responsible for social media and communications of the Cities Investment Facility, within the Office of the Executive Director.
Governance Framework
The organisational framework of CIF comprises seven entities: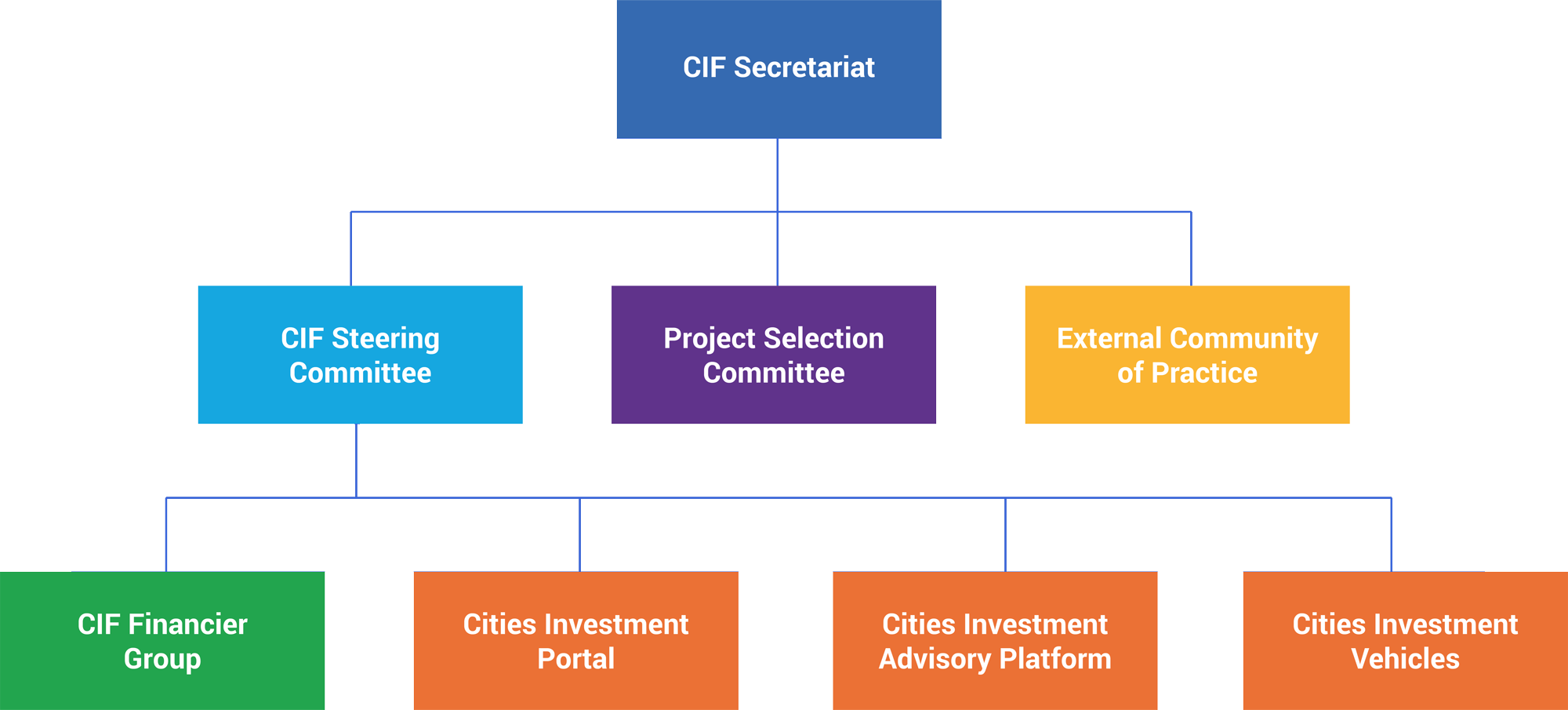 CIF Steering Committee: It comprises of representatives from the Administrator of the CI Portal, the CI Advisory Platform and the CI Vehicles, whose objective is to provide strategic direction to CIF, including in areas of programme mission, vision, structure, and high-level operational objectives.
Project Selection Committee: It comprises of a total eight experts nominated from the CIF Secretariat, the CI Advisory Platform, the CI Vehicles and the Administrator of the CI Portal, whose objective is to conduct the initial round of filtration and assessment of projects entering the CIF pipeline.
External Community of Practice: It consists of seven members nominated by the Executive Director of UN-Habitat from outside of UN-Habitat that are external to the CIF governance, who have experience with financing urbanisation and/or developing bankable projects.
CIF Financier Group: It comprises of individual and/or institutional financiers which are external to CIF, that have made financial contributions to any of the entities of CIF.
Guidelines
In the implementation of its mandate and activities and in its relationship with its members and partners, the CIF will operate in accordance with the United Nations Charter, rules, regulations, principles and policies, including the United Nations policy on "zero tolerance for sexual exploitation". Nothing in its actions or engagements shall be deemed, either expressed or implied a waiver of the United Nations privileges and immunities

SDG Cities Global Initiative
SDG Cities is the mother programme of Cities Investment Facility. It aims to help cities to set clearly defined, evidence-based development targets for 2030, and provides cities with technical assistance in strategic planning, capacity building and development financing in order to realise the targets.
The Cities Investment Facility is a key mechanism through which SDG Cities can ensure a continuous pipeline of SDG-assessed, de-risked, verifiable impact investment opportunities in cities globally.
In this framework, UN-Habitat as part of SDG Cities have identified the following four distinct but mutual reinforcing areas to cooperate in:
Financing sustainable cities including through implementation of the Cities Investment Facility (CIF)
Local public financial management including through coordination, collaboration, programming and implementation at country, regional and global level
Technical and normative support to sustainable city development finance including through coordination, collaboration, programming and implementation at country, regional and global levels
Resource mobilization to ensure that SDG Cities is fully funded